Check out the fun our students get to have in Science! Thanks, Mrs. Teeter!
We practice writing a couple times a week. We keep most of the writing at school because we glue it into their journals which will go home at the end of the year. It's so fun to look back and see how much they have learned and developed in their Language skills!
Building is a big deal in our class. There are always a couple groups of students building cool structures during our play periods. Here are a couple from this week.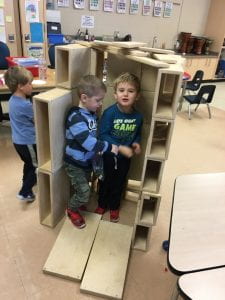 In the pictures below, students are playing "can you guess my shape".
Math is extra fun when you get to paint shapes!!!